At this point, it seems like nothing can slow Instagram down. The social media giant announced this last June that it hit a milestone of 1 billion monthly active users. At the current rate it's going, it could even rival Facebook within the next few years.
Any business, influencer, or aspiring internet celebrity who doesn't have a presence on Instagram is missing out. No other network matches the sheer amount of engagement that the average post receives on it.
It can be a tricky site to navigate, though. It takes a lot of experience and knowledge to get the hang of its peculiarities. For this review we will be looking at SocialDrift, a service built to steer you towards success.
Overview
SocialDrift was initially created as an Instagram automation service in the same vein as Instagress. However, automation has fallen out of favor with users these days. This is because its effectiveness has largely waned over time as Instagram has changed.
Rather than cling onto its old form, SocialDrift decided to adapt and evolve into an "Insights" service.
What that means is that they now specialize in analyzing Instagram accounts and providing recommendations for improvement. According to another SocialDrift review, this includes tips about refining your bio, advice on how often you should be posting, notifications about which posts have generated the most engagement, and more.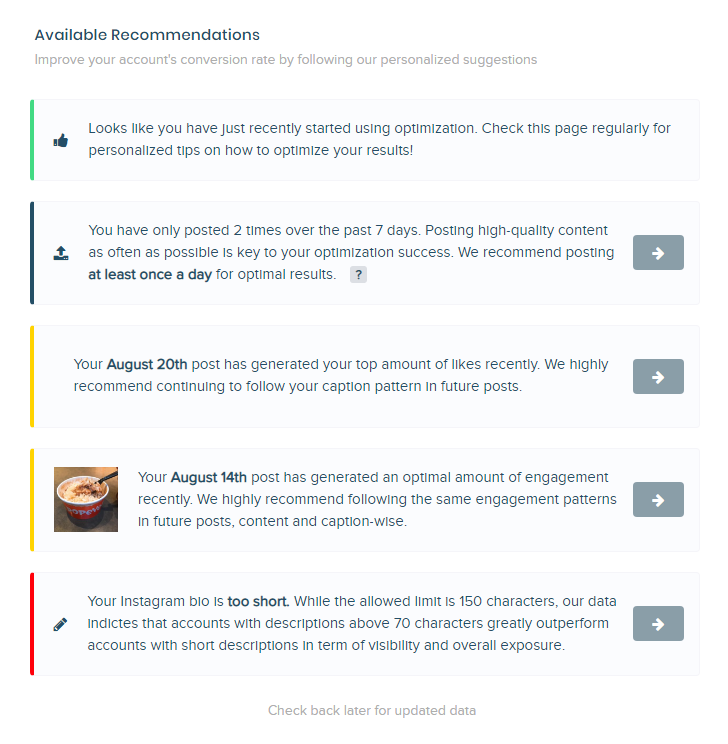 What's the cost?
Cost is usually the biggest determining factor in whether a service is regarded as worthwhile. Even if it does a great job, the price can be a major sticking point that keeps many people from taking the plunge.
SocialDrift currently offers two separate payment plans. The first is a recurring fee of $13 per week, while the other is $39 per month. Both have the same exact features, so the monthly option is mostly a nice cost-saving alternative for anybody intending to use the service for more than three weeks.
We would say that this is a fair deal, considering that there aren't any other custom-tailored optimization services on the market. Yet, we would also recommend keeping an eye out for discounts, which the site generously provides often.
Price score: [4/5 stars]
Is it legitimate?
The importance of safety cannot be overstated when you sign up for a service like this. Between scammers making false promises and hackers taking advantage of poorly guarded websites, caution should always be exerted before entrusting anyone with your information.
One of the first areas that should be checked is the website's security. SocialDrift passes this test easily. Its SSL certificate is up to date, which means that you can rest assured that everything sent to it is private and protected.
It would be advised to do a bit of digging around the internet as well. As of this moment, there has not been any data breaches, hacking incidents, or consumer reports of stolen information against SocialDrift.
So, with all of that out of the way, does the service work as advertised?
The answer is yes, SocialDrift makes good on its promises. All you have to do is put in your Instagram username and it will start generating personalized suggestions for you. So it isn't yet another "take the money and run" type scam.
There's no need to worry about anything happening to your Instagram account either, as SocialDrift doesn't require access to your login information. You just give them your username and that's all. This is a relief for anybody who has heard horror stories about services that hijacked their customers' accounts and engaged in inappropriate activity.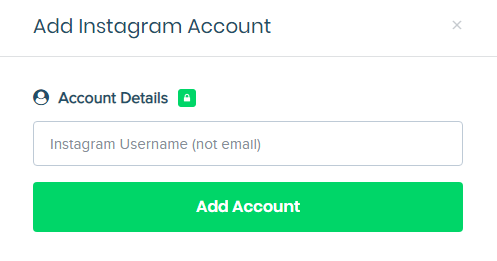 Overall we found that there's little to no risk in using SocialDrift, so we'll give it a perfect rating in this area.
Safety score: [5/5 stars]
Does it work?
SocialDrift promises upfront that it will help you achieve organic growth and expand the size of your audience. This seemed like a curious selling point, especially for a service that doesn't utilize automation or paid followers, so we decided to test it out for ourselves.
Much to our surprise, we actually saw a significant amount of growth by utilizing the tips provided. Our follower count steadily rose over the course of five weeks. While we were previously gaining about 300-400 followers a month, that number got boosted to nearly 1,000 now. There was also an increase in interactions with our posts, as we started getting more comments and likes.
Growth score: [4.5/5 stars]
Verdict
SocialDrift is one of the more unique and innovative services that we've seen lately. It fills a specific niche that has been underserved as far as we can tell. For that factor alone, we have to give it credit for trying something different.
Our verdict is that SocialDrift is definitely worth trying if you're interested in it. It is a handy assistant for anybody who needs some guidance on how to polish their Instagram strategy and win over more followers.
Final Score: [4.5/5 stars]